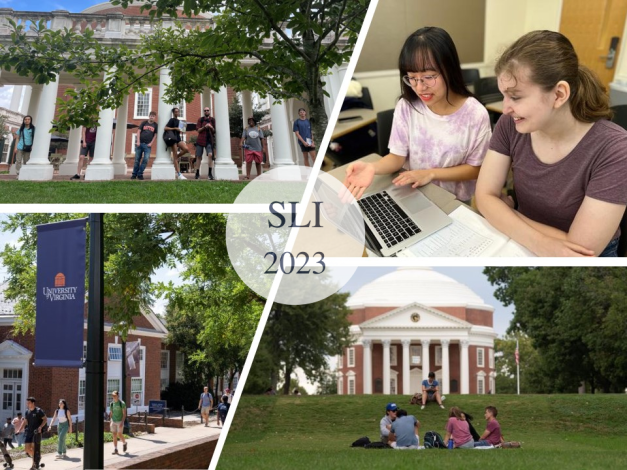 About UVA 
In 1819, Thomas Jefferson founded the University of Virginia and inaugurated a bold experiment – a public university designed to advance human knowledge, educate leaders and cultivate an informed citizenry.
More than two centuries later, this vision is thriving. Across Grounds - and throughout the world - UVA students, faculty, staff, and alumni challenge convention, break barriers and pursue the greater good.
What is the Summer Language Institute?
The Summer Language Institute (SLI) is rapid language acquisition. It offers eight-week courses in Arabic, Chinese, French, German, Latin, Russian, and Spanish. 
Students attend classes five days a week and up to seven and a half hours a day. 
Listening, speaking, reading, and writing skills are developed in a student-centered environment. 
In just two months, students cover two years of language study (12 credits) in French, German, Latin, Russian and Spanish and one year (8 credits) in the Chinese and Arabic programs.  
Whether you are preparing for an experience abroad, undertaking graduate research, pursuing an international career, or exploring a new language and culture, the SLI welcomes you this summer! Check below the languages offered for summer 2023.  
 
Who is eligible to apply to the SLI? 
The Institute attracts a diverse community of learners who come to the SLI for various academic, professional, and personal reasons. SLI is for high school students, undergraduate/graduate college students, non-traditional students, and motivated language learners. 
How to register or apply? 
All applicants are asked to... 
Complete the application form on the program web page. 

Submit one letter of recommendation. The online application allows you to enter your referee's name, title, and email address (preferably one of your former language instructors), and the system will send an automated request for a letter of support. 

Submit a copy of your transcript (unofficial is fine). Only one transcript is required from the institution you are attending or most recently attended.  
Register soon 
Applications will continue to be accepted until each language program reaches its capacity.
2023 SLI Calendar 
| | | |
| --- | --- | --- |
| Saturday, June 17 | 1:00 PM | Online Program Orientation  |
| Tuesday, June 20 | ------------- | CLASSES BEGIN |
| Friday, June 30 | ------------- | Last day to change grading option (1st half) |
| Tuesday, July 4 | ------------- | Independence Day Holiday (Observed), No Classes |
| Saturday, July 15 | ------------- | Mid-Term Exam for Some Programs |
| Monday, July 17 | 4:30 - 6:00 pm | SLI Snackfest (mid-program event) |
| Friday, July 28 | ------------- | Last day to change grading option (2nd half) |
| Friday, August 11 | ------------- | LAST DAY OF SLI |
2023 Costs
The SLI fees are based on the number of credits each language offers (12 or 8 credits). All participants must pay the Institute Fee of $60 and the Comprehensive Fee. The table below shows the costs of one credit hour. To find out the total costs check the web page of the language of your interest. 
 
 

Virginia Resident 

Non-Virginia Resident 

Required Fees 

       Institute Fee  

       Comprehensive Fee 

  

$60 

$438 

  

$60 

$498 

 

Undergraduate Student Tuition 
 

$443 x credit hour 

$1,625 x credit hour 

Graduate Student Tuition 
 

$509 x credit hour  

$1,032 x credit hour 

Non-Credit Study Option Tuition  
 (Flat Rate for 12 or 8 credits)

 $5,316

$5,316
Financial Aid & Fellowships 
UVA does not offer any scholarship support for summer language study. Need-based financial aid is only available for currently enrolled, degree-seeking students at UVA. See Summer Session Financial Aid. For visiting students, it may be possible to apply for a FLAS through your home institution.  UVA graduate students should consult the Director of Graduate Studies in their department to inquire about the availability of GSAS funds for summer language study. 
Note to students applying for financial aid through UVA: please be sure to request an early enrollment from the SLI office. 
Comments from Past Participants 
"It's a great program, and I am so glad I had the opportunity to take part." 

"Great course! I felt that it was very strong both in grammar and in culture. Thank you." 

"Great professors, great focus, content taught was important and very relevant to both further study and/or career application."
Located in Central Virginia just east of the Blue Ridge Mountains, Charlottesville offers stunning beauty, rich culture, and an endless list of things to do. In the span of a single day, you can hike through the mountains, catch a concert, grab a bite at one of Charlottesville's many celebrated restaurants (we rank among the nation's top 15 places with the most restaurants per capita!), stroll the historic Downtown Mall, and explore Thomas Jefferson's Monticello or James Monroe's Ashlawn Highland. Whatever you do, Charlottesville brings together the best of many worlds, offering the livability and community of a small city with the amenities and cultural attractions of a metropolis.
Important Links:
- Information for Admitted Students  
Contact the SLI 
E-mail: uvasli@virginia.edu 
Phone: +1 (434) 924-3371