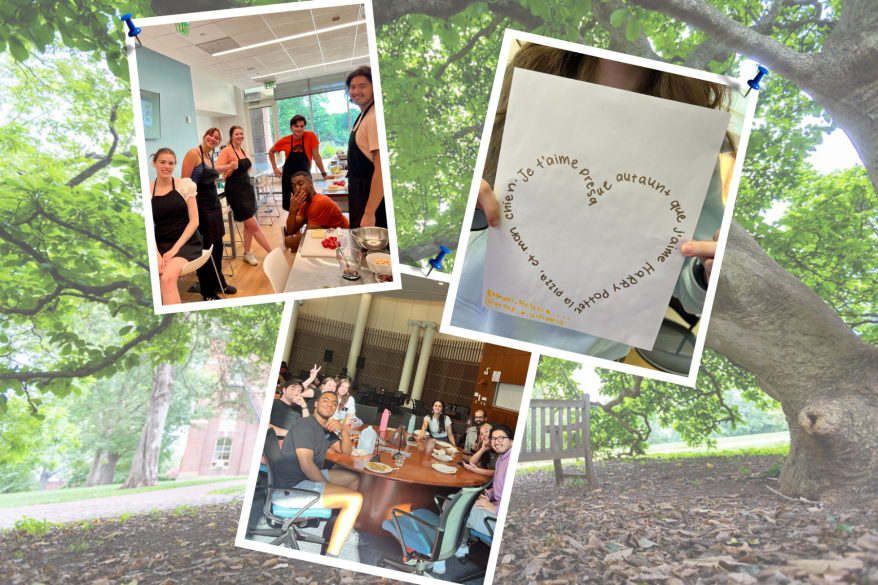 French SLI 2024 - In Person
From conjugating verbs to reading Proust and cooking ratatouille, the Summer Language Institute in French is both intense and intensely rewarding.
If you need to: 
      Fulfill your language requirement! 
If you need to:
     Pass your proficiency exam!
Or, perhaps, if you just want to:
     Prepare for your adventure in Life!
Then…
     French is spoken here!
The Department of French Language & Literature at the University of Virginia is pleased to offer its Summer Language Institute.  Upon successful completion of this rigorous yet rewarding 8-week near-immersion program, students will receive 12 credits for the first four semesters of elementary- and intermediate-level French language (FREN 1016, 1026, 2016, & 2026) and will satisfy the undergraduate language requirement at UVA and many other colleges and universities.   
Pedagogy and Philosophy
In the French SLI, you will develop your ability to communicate in French—orally and in writing, individually and collaboratively—about diverse topics relevant to your world. You will hone your listening and reading comprehension skills, as well as those of speaking and writing. After completing the intermediate level, you are prepared to begin advanced coursework for the French major or minor, and you are ready to travel, study, and engage in internships abroad in order to deepen your command of the French language and understanding of the cultures of the French-speaking world. 
Unique Features of the Program
Unique to UVA's Summer Language Institute in French, a special track has been created to meet the needs of graduate students preparing to pass proficiency exams or preparing for research in French archives.  These students will have the opportunity to combine the regular SLI program in French with a special session in translation specifically designed to address graduate students' needs.  Students taking advantage of the special "Graduate Student Session in Translation" will enroll and participate in all Institute sessions and activities—morning, afternoon, and evening—for the first four weeks of the program.  After acquiring a base knowledge and proficiency, during the program's second half, graduate students replace the evening session with the special translation course…the best of both worlds! 
What students say about French SLI:
"SLI is a strong and very efficient language acquisition program that I would strongly recommend to everyone."
"The strength of the program is the professors. They were incredible."
"Extremely good staff who make learning an entire language 8 intense weeks actually fun."
Required Textbook: 
Mitchell-Tano. Espaces: Rendez-vous avec le monde francophone (5e édition). Vista Higher Learning 2022 (textbook and Supersite+WebSam). 
Program Structure  
Monday through Friday, students meet for three separate but coordinated sessions: morning, afternoon & evening. Attendance in the three sessions is required of all students, regardless of whether they are enrolled for credit or non-credit. Furthermore, every student, regardless of the type of enrollment, must earn a passing grade in each class of the first half of the SLI in order to participate in the second half of the program. 
Eight weeks – 12 credits – Tentative Daily Schedule: 
The program meets five days a week for eight weeks. 
Morning 9:00-12:00  
Afternoon 1:00-4:00  
Evening 4:30-6:30  
2024 Costs
Students in all SLI programs, including the non-credit option, must pay the Institute Fee of $60.00 and the Comprehensive Fee. See Summer Session Housing for information on housing costs. See Dining for Information on meal plans.
 
Virginia Resident
Non-Virginia Resident

Required Fees

       Institute Fee 

       Comprehensive Fee

 

$60

$438

 

$60

$498

Undergraduate Student Tuition
(12 credits)
$456 x 12cr = $5,472
$1,685 x 12cr = $20,220
Graduate Student Tuition
(12 credits)
$535 x 12cr = $6,420
$1,084 x 12cr = $13,008
Non-Credit Study Option Tuition
$5,472
$5,472
Please note that graduate-level tuition applies to current UVA students who will graduate in May, before the start of the SLI.
Contact Information: 

Department of French Language and Literature 
French SLI Director: Spyridon Simotas   
New Cabell Hall, Room 369 
(434) 924-7158