COVID-19 Update: UVA Summer Session has suspended the Morven Summer Institute for 2020.  Click here to view courses that will be offered remotely.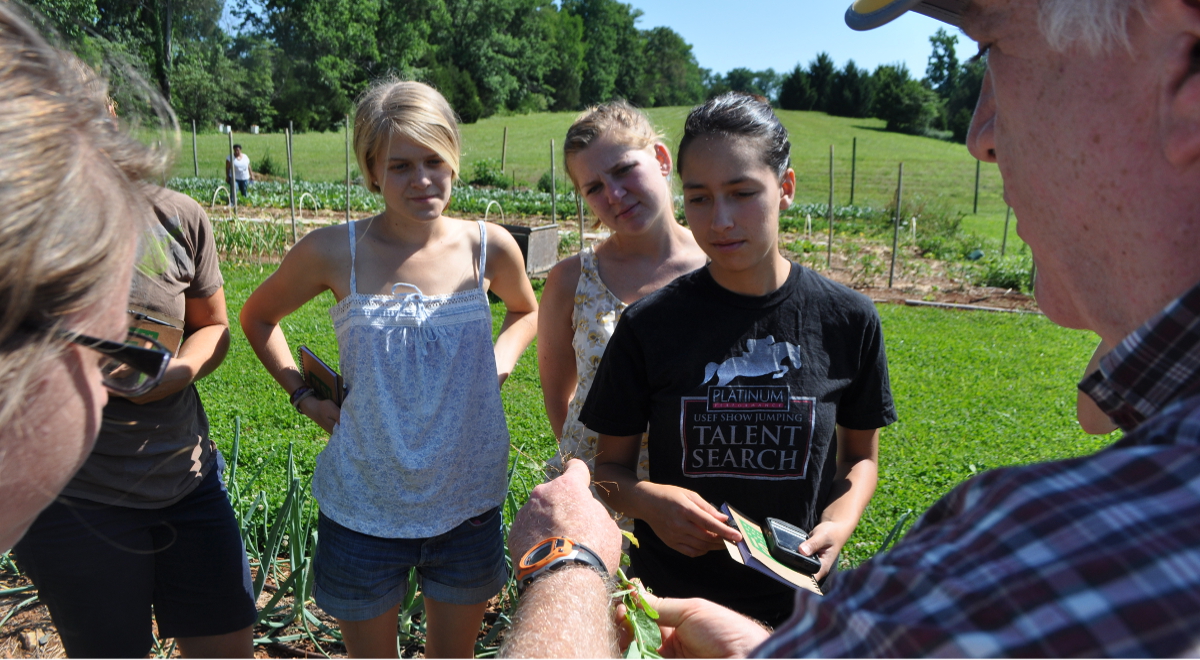 The Morven Summer Institute is an innovative summer program hosted on UVA's 3,000-acre Morven Farm, an emerging landscape for interdisciplinary learning at the University, located 20 minutes from UVA Grounds. At the Morven Summer Institute, undergraduate and graduate students with interests in sustainability, design, food systems, and ecology will have the opportunity to escape traditional confines of the classroom while working on projects with real-world applications.
Students participating in the 2020 Summer Institute select one 3-credit course from either (or both) of the 10-day summer blocks. In conjunction with time spent in the classroom at Morven, this interdisciplinary program features guest speakers, field trips, active group discussions, and hands-on projects to ignite creative collaboration among students and faculty.
The Morven Summer Institute is a collaborative effort involving faculty from the School of Architecture, the College of Arts and Sciences; and the Office of Summer and Special Academic Programs.
Students from all years, departments, and outside universities are welcome to join the Morven community for this unique program.
Block A  - May 18 - May 30
PLAP 3160/GSVS 3160 - Politics of Food, Paul Freedman
How and what we eat is basic to who we are as individuals, as a culture, and as a polity. This course looks at the production and consumption of food in a political context. Food politics and policies have critical implications for the environment, for public health, for political equality, and for budget priorities. This course looks at food politics through a series of "food fights." We will examine controversies over agricultural subsidies, labeling requirements, taxation, farming practices, food safety, advertising and education. In doing so, we will explore some of the most important features of American democracy, including legislative politics, regulation, interest group activity, federalism, public opinion, political communication, and representation. Ultimately we will examine the ways in which the politics of food represents both a reflection and a distortion of fundamental democratic principles..
ARCH 3500/5500/GSVS 3559 - Sustainable Communities, Phoebe Crisman 
This course investigates the principles of sustainable community development—environmental quality, economic health, and social equity—as reflected in buildings, rural landscapes, towns, and cities. Through case studies, class activities and site visits, we will examine how communities impact and improve basic environmental-quality variables such as air and water quality, food supply, mobility, energy, and sense of place.
Block B - June 1-June 12
PLAP 3160/GSCS 4559 - Farmers Markets, Food Politics and Research Methods, Paul Freeman
This seminar provides an introduction to farmers markets in the context of food politics. Students will learn about the history and role of farmers markets, and gain practical experience in data gathering and analysis, building a set of skills that can be applied in studying farmers markets throughout the Commonwealth and beyond. A roster of guest lecturers, developed in collaboration with the Farmers Market Coalition, will include researchers, policy makers, farmers market managers, and farmers.
COSTS PER COURSE

UNDERGRADUATE VIRGINIA RESIDENT
Tuition (3 credits @ $407/credit): $1,221
Comprehensive Fee: $408
Total: $1,629
GRADUATE VIRGINIA RESIDENT
Tuition (3 credits @ $470/credit): $1,410
Comprehensive Fee: $408
Total: $1,818
UNDERGRADUATE OUT-OF-STATE
Tuition (3 credits @ $1,492/credit): $4,476
Comprehensive Fee: $468
Total: $4,944
GRADUATE OUT-OF-STATE
Tuition (3 credits @ $954/credit): $2,862
Comprehensive Fee: $468
Total: $3,330