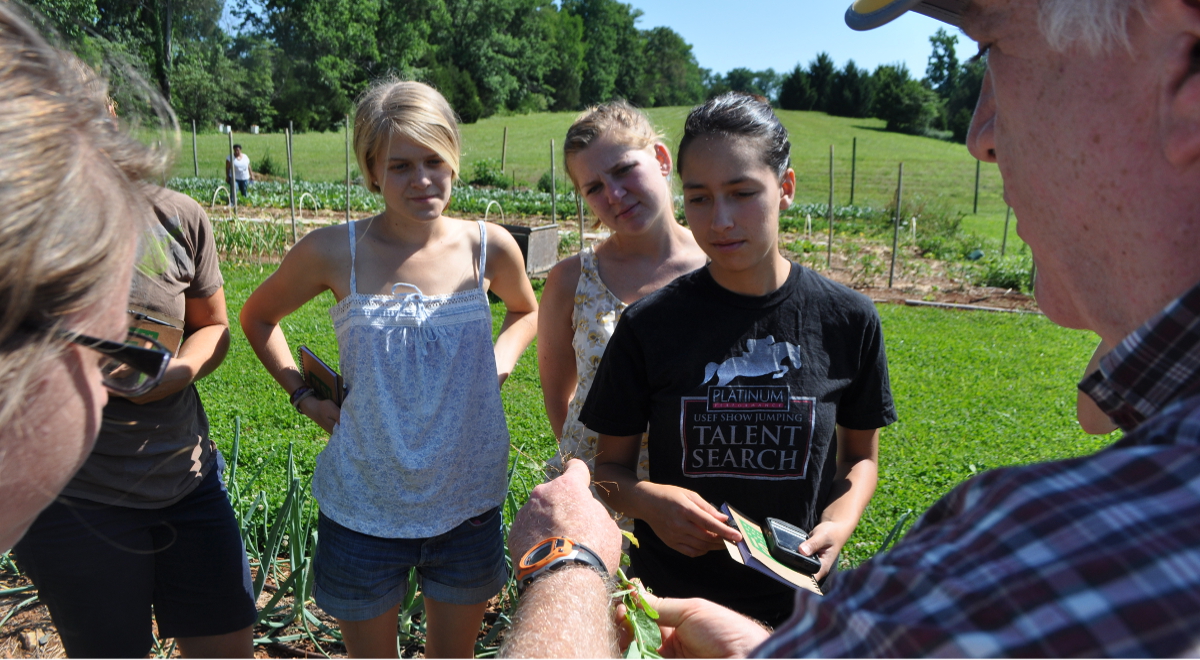 The Morven Summer Institute is an innovative summer program hosted on UVA's 3,000-acre Morven Farm, an emerging landscape for interdisciplinary learning at the University, located 20 minutes from UVA Grounds. At the Morven Summer Institute, undergraduate and graduate students with interests in sustainability, design, food systems, and ecology will have the opportunity to escape traditional confines of the classroom while working on projects with real-world applications.
Students participating in the 2019 Summer Institute select one 3-credit course from either (or both) of the 10-day summer blocks. In conjunction with time spent in the classroom at Morven, this interdisciplinary program features guest speakers, field trips, active group discussions, and hands-on projects to ignite creative collaboration among students and faculty.
The Morven Summer Institute is a collaborative effort involving faculty from the School of Architecture, the School of Engineering, and the College of Arts and Sciences; the Office of the Vice President for Research; and the Office of Summer and Special Academic Programs.
Students from all years, departments, and outside universities are welcome to join the Morven community for this unique program.
Block A  - May 13 - May 24
PLAP 3160/GSVS 3160 - Politics of Food, Paul Freedman
How and what we eat is basic to who we are as individuals, as a culture, and as a polity. This course looks at the production and consumption of food in a political context. Food politics and policies have critical implications for the environment, for public health, for political equality, and for budget priorities. This course looks at food politics through a series of "food fights." We will examine controversies over agricultural subsidies, labeling requirements, taxation, farming practices, food safety, advertising and education. In doing so, we will explore some of the most important features of American democracy, including legislative politics, regulation, interest group activity, federalism, public opinion, political communication, and representation. Ultimately we will examine the ways in which the politics of food represents both a reflection and a distortion of fundamental democratic principles..
SYS 4502/GSGS 3559 - Sustainablilty & Human Needs, Garrick Louis 
What is a sustainable quality of life or standard of living? Is it at the current level of consumption in industrialized countries like the U.S., in emerging economies like China, or in lower-income countries like Kenya? How should governments balance the need to create national income and provide for the human needs of their citizens, against the desire to conserve natural resources and the environment for future generations? Sustainable Development allows a society to satisfy its present needs without compromising the ability of future generations to meet their needs. Sustainability is a principle that allows societies to achieve sustainable development. Will the UN's Sustainable Development Goals foster sustainability for all? What are effective strategies for addressing urbanization and global food security in the context of climate change?
This course will take a systematic approach to addressing these questions. It will begin with a review of system analysis; then use these fundamentals to evaluate sustainability in the context of human needs. The course will examine the technology and policy approaches to satisfying these needs, including the externalities they incur and the tradeoffs involved between social benefit and environmental impact. We will analyze the roles of government, civic society, and industry in implementing sustainability at the national level. The course will examine case studies of innovative approaches to sustainability in high- and low-income countries.
Block B - May 28-June 7
GSVS 3559/ARCH 3500/5500 - Sustainable Communities, Phoebe Crisman 
This course investigates the principles of sustainable community development—environmental quality, economic health, and social equity—as reflected in buildings, rural landscapes, towns, and cities. Through case studies, class activities and site visits, we will examine how communities impact and improve basic environmental-quality variables such as air and water quality, food supply, mobility, energy, and sense of place.
KINE 3400:- Nutrition,  Sibylle Kranz 
Have you ever noticed that some people seem to be able to eat anything they want and are still slim, active and seem healthy? Do you every feel confused or overwhelmed by all the conflicting "nutrition" or eating advice you hear or read about? These are questions that are on the mind of many people in the US and trying to answer them brings us back to the need to understand how carbohydrates, proteins, and fats are processed by our body.
In this class, we will explore how food is absorbed and digested and how the macronutrients are processed by your body.  You will analyze your own diet and create a plan to improve your diet. Students work alone and in small groups to evaluate popular diet advice.  Since food supply and food environment are significant predictors of food intake, we will discuss how socio-economic factors, diversity, and other cultural differences affects people's food environment and consumption choices; and we will discuss sustainable food production and use the Morven Kitchen Garden as living lab to learn about food production.
PLAN 5500 - Virginia Food Systems Leadership, Tanya Cobb 
COSTS PER COURSE
UNDERGRADUATE VIRGINIA RESIDENT
Tuition (3 credits @ $396/credit): $1,188
Comprehensive Fee: $400
Morven Institute Fee: $450
Total: $2,038
GRADUATE VIRGINIA RESIDENT
Tuition (3 credits @ $454/credit): $1,362
Comprehensive Fee: $400
Morven Institute Fee: $450
Total: $2,212
UNDERGRADUATE OUT-OF-STATE
Tuition (3 credits @ $1,442/credit): $4,326
Comprehensive Fee: $460
Morven Institute Fee: $450
Total: $5,236
GRADUATE OUT-OF-STATE
Tuition (3 credits @ $922 credit): $2,766
Comprehensive Fee: $460
Morven Institute Fee: $450
Total: $3,676