Instructor: Stephen Macko, Professor
Days of the Week: MTWRF
Course Times: 2:00 - 4:15 pm
Course Description:  Analyzes the principles that govern the world's oceans and their integration into an understanding of the major marine environments. Topics include marine pollution, global climate, and marine policy.
Students also enroll in an additional 1000- or 2000-level course of their choice. UVA Advance staff advise students and oversee course selection.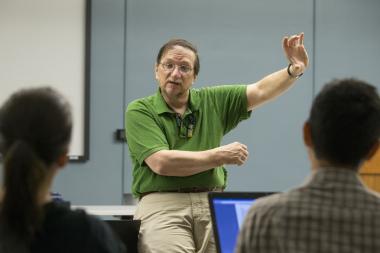 Stephen Macko has taught at UVa since 1989. He holds a B.S. in chemistry from Carnegie-Mellon University, an M.S. in marine chemistry from the University of Maine, and a Ph.D. in chemistry from the University of Texas.  He has authored  hundreds of refereed research papers and books, and he was elected a Fellow of the Geochemical Society and European Association of Geochemistry. He has been featured on Discovery and National Geographic television programs, as well as in a number of public and commercial radio and television interviews.