UVA Summer Session 2021 will be fully remote. There will be no in-person classes or components.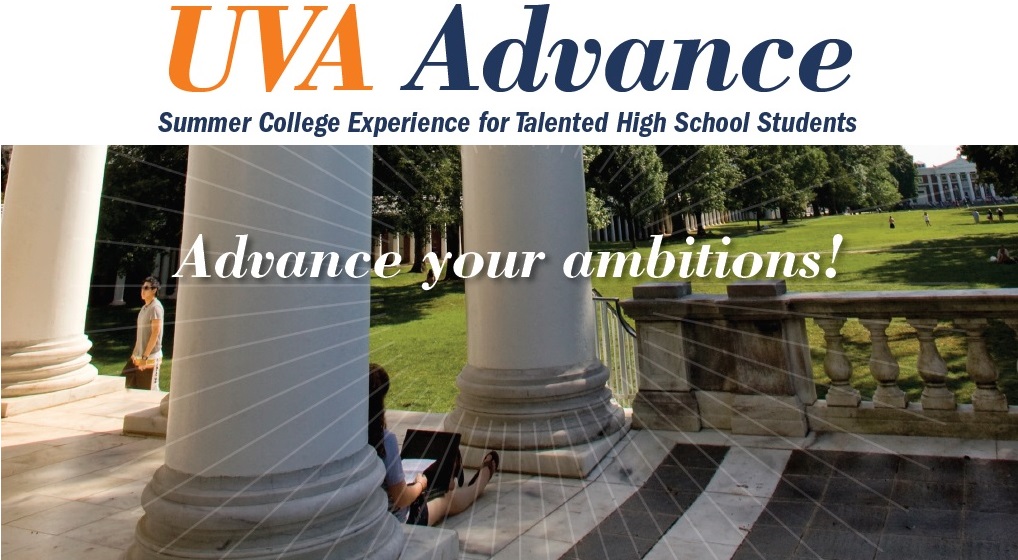 Program Dates: July 19 - August 13, 2021
UVA Advance 2021 is a four-week REMOTE summer program for highly-motivated, rising high school juniors and seniors that offers participants an opportunity to enroll in undergraduate courses for-credit at the University of Virginia.  
Academics
Summer Session III (July 19 – August 13): UVA Advance participants may enroll in up to two undergraduate courses for credit. If you choose to take two courses, one of them must be a UVA Advance core course. 
REMOTE COURSE OPTIONS
UVA Advance Core Courses: Open only to UVA Advance participants

"Regular" 1000- or 2000-level Summer Session courses in which UVA Advance students will be enrolled with resident (degree-seeking) UVA students.

Review list of available courses

here

.
All UVA Advance participants will also be enrolled in a zero-credit course, which will consist of a series of workshops preparing participants for the challenges and opportunities that undergraduate students confront. More information on the workshops is available here.
During Summer Session, you will be considered a visiting undergraduate student at the University of Virginia.  As such, you are expected to follow all the academic and non-academic policies and procedures of the University.  Please review the Summer Session Academic Policies, University of Virginia Standards of Conduct, and information about the Honor System prior to the start of your courses.
Tuition & Fees
Virginia Residents:  

Tuition for one course (three credits): $1,269

Comprehensive fee for student services: $294

Program fee for co-curricular programming and administration: $1,000

Total: $2,563*

(*Add $1,269 if enrolling in a second course.)

Non-Virginians:

Tuition for one course (three credits): $4,656

Comprehensive fee for student services: $354

Program fee for co-curricular programming and administration: $1,000

Total: $6,010*

(*Add $4,656 if enrolling in a second course.)
Financial Aid: Limited, need-based scholarships are available. The financial aid priority deadline has passed. Applications are currently under review.  
Refunds: Summer Session policy provides full refunds to students who drop a course in SIS through the second day of class. After the second day of class, refunds are prorated, as outlined below:
Registration through Day 2 --- 100%
Day 3 and 4 --- 75%
Day 5 and 6 --- 50%
After Day 6 --- 0%
Student Information System
A student account will be established for you in the Student Information System (SIS). You must log into your SIS account to pay UVA Advance tuition and fees. Instructions for SIS activation/access will be emailed to you after classes have been assigned and you have been registered in your courses.  All major credit cards are accepted, except Visa. You may choose to pay with an e-check to avoid credit card transaction fees. Information related to viewing and paying your bill is available here.  (For guidance related to making international payments, click here. 
Immediately upon course registration, which the Office of Summer and Special Academic Programs will complete on your behalf beginning in mid-April, charges will be posted to your account in SIS. Payment of the comprehensive fee ($294 for VA residents/$354 for non-VA residents) will be due by May 24 or five days after your course registration, whichever is later.  Remaining tuition and fees must be made in full before the first day of class.
Most final grades will be posted in SIS by the Wednesday following the last day of class.  Students may request their transcripts through the UVA Registrar free of charge whenever needed.
How to Apply (We are no longer accepting applications.)
To be eligible for the program, a student must be in good academic standing with a GPA of at least 3.5 in a college prep curriculum and be a rising high school junior or senior in the summer of 2021.  Completed applications for admission will be reviewed on a rolling basis until the program is full.  We encourage students to apply early.  
The following materials must be submitted to be considered for admission to UVA Advance:
Online application form
UVA Advance application supplement
High school transcript - unofficial transcript from current high school
One letter of recommendation completed by high school teacher or administrator 
Short essay:

According to the American Psychological Association, "Psychologists define resilience as the process of adapting well in the face of adversity, trauma, tragedy, threats, or significant sources of stress."  In 350 words, tell us how you became more resilient in 2020.
ADDITIONAL INFORMATION FOR INTERNATIONAL APPLICANTS
English is the language of instruction at the University of Virginia. If your first language is not English and the language of instruction at your home institution is not English, you will be asked to enter your most recent TOEFL or IELTS scores as part of the online application form.  At the discretion of UVA Advance, a phone or video interview with the program director may be required.
Click the button below to apply. Applicants will be prompted to create an online account and to complete the online application. All supplemental documents may be accessed and submitted through the online application.

We are no longer accepting applications.
Contact UVA Advance
E-mail: UVaAdvance@virginia.edu
Phone: 1-434-243-2241